---
---
Fiber Cement Siding
(800) 718-3806
---
Fiber Cement Siding
Fiber cement siding is made up by the use of sand, cellulose fiber, and cement. Fiber cement siding most often takes on the appearance of overlapping horizontal boards that look like wooden siding. Fiber cement siding is produced in sheet form. This type of siding was developed in Austria around 1901. Fiber cement siding was developed for those who want, and need, a dependable green building material that is high performance. Being green is an important part of life now days so that we leave a better impression on the earth, and our children. Fiber cement siding is a very good choice for setting an example for the future with using green products.

The external fiber cement siding needs minimal upkeep after it has been installed and painted. The more dense the fiber cement siding will give you the best impact resistance. However the thinner, the less density the fiber cement siding has the more protection needed against impact. Fiber cement siding is better than wood siding, due to the fact that wood siding attracts termites and fiber cement siding does not likely to be attacked by termites. Another thing that is not likely to hurt the fiber cement siding is fire. Fiber cement siding is non combustible, which means it is a fire resistant material. Fiber cement siding is largely used in fire susceptible areas, such as high heat countries like Australia. Although you could use the fiber cement siding in any country of your choosing. Fiber cement siding is also rot-resistant.
---
---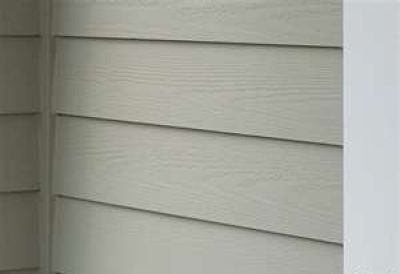 ---
Nearly fifteen percent of all new homes use fiber cement siding. The preference of the cement siding is in part due to its versatility and price. Fiber cement siding is just a fraction the cost of other types of siding. Most architects, as well as most contractors, regularly request the use of the siding because it keeps down cost without compromising the looks of the home. Some historic districts have even approved the use of the cement siding. The overall aesthetic look of a house is a key thing to have. When you choose cement siding you have the choice of color and designs. You can choose a range of designs that range from small panel to large panel sizes, or you could be bold and go with both sizes just to mix it up a bit. Create some contrast with your cement siding, go bold, go cost effective, and go versatile. Or you could go with a sleek yet traditional look. Either way you choose your house will look great with a cement siding.

Fiber cement siding is almost like a miracle siding. It is durable like concrete, looks like wood, you can paint it any color, you can choose almost any design, it is fire resistant, it is rot resistant, it is also termite resistant, it can survive in some of the harshest weather, and it is very cost effective, not to mention it is very low maintenance. Overall it would seem that fiber cement siding would be the best choice of siding when deciding for your home building, or remodeling needs.
---
Fiber Cement Siding